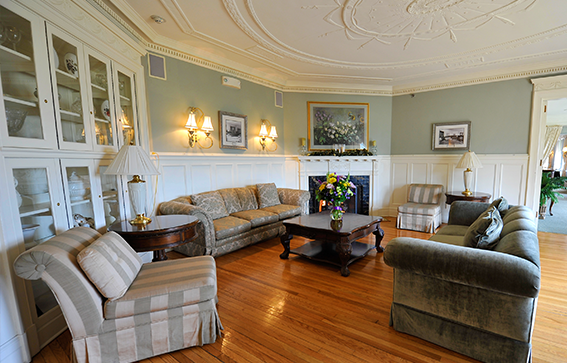 Rooms & Suites

That Envelope You in History and Elegance

Old-fashioned yet modern, elegant yet charming, the rooms and suites at Traditions at the Glen are ideal for the cultivated, refined traveler who wants serenity and sophistication. Whether you stay one night or one week, our cozy, comfortable rooms and expansive suites offer everything you need for an exceptional stay. Attention to detail, gracious personal service and a sense of history enhance the exquisite elegance of a Traditions stay.
Hotel Amenities
Business CenterAvailable to Guests 24 hour per day.
Hotel DiscountsHotel Guests receive 10% off Golf and Spa services as well as 50% off Salt Sanctuary visits.
Bar & DiningCozy up to the Tavern Bar for a cold drink or settle in beside the fire for a taste of our menu.
BreakfastEnjoy continental breakfast available in the Tavern Monday - Saturday, 6:30am-10:0am
Earn RewardsSign up for our Preferred Members Program to gain rewards each time you stay with us or when charging amenities to your room.
Fitness CenterAvailable to guests 24 hour per day.
Double Queen
Perfect for friends or family who have come to Traditions at the Glen to play Golf or FootGolf, hike or attend an event. Views overlook either the Glen or the Susquehanna River Valley. Amenities include luxurious products directly from our state-of-the-art spa facilities, complimentary Wi-Fi, a Keurig coffee maker and an in-room safe. Adjoining rooms available for this room type.
Book Now
Traditional King
Welcome to your home away from home. This room features a king bed and has views overlooking either the Glen or the Susquehanna River Valley. It's a perfect getaway for the busy executive or adventurous traveler; you'll be able to take care of business or hike and explore and then unwind in our immersive spa. Amenities include luxurious products directly from our state-of-the-art spa facilities, complimentary Wi-Fi, a Keurig coffee maker, and an in-room safe.
Book Now
*Hotel guests receive 10% off golf, 10% off spa services and 50% off Salt Sanctuary
Guarantee Policy: A reservation guaranteed with any major credit card assures you of a room and late arrival. Please contact guest services for any reservations arriving after midnight. All reservations made through this web site must be guaranteed to a major credit card.
Cancellation Policy: If you need to cancel your reservation please do so by 12:00 noon 48 hours prior to your arrival date to avoid penalty. Traditions at the Glen reserves the right to make changes to this policy at any time without prior notice.
We had a wedding reception for our son and new daughter in law. Everything went well and was perfect. Room was nice, clean, comfortable, staff was nice. It was a great overnight stay. Wedding reception and food was great. Located on a nice golf course.
—mikecS3220LV
The property is beautiful, the staff was extremely friendly and helpful with any and all needs. The room we had was perfect, a king bed, fireplace & at the end of the hall with no one around us. It was perfect.
—aprileffintaylor28
I have stayed here a couple of times and the staff is always very courteous and helpful. The rooms are spacious and the tavern is a great place to have a drink overlooking the valley. The hotel is spacious and is very unique. I would stay here again.
—Julie L
Our rooms were lovely! Overall very clean. The view from the rooms breathtaking. Breakfast was very good and the Sunday brunch had extensive choices that were quite good. Lovely landscaping for walking around.
—donnamJ6762DX